NORTHERN COLORADO — A group of Northern Colorado people from Loveland, Greeley, Fort Collins, Windsor, Johnstown and Berthoud will soon embark on a public campaign to raise $13 million to build a regional children's museum.
By 2025, the group is intent upon having a 16,700-square-foot building open to the public and especially to children younger than 10 years of age.
It will be the only dedicated children's museum in Northern Colorado and one of only two north of Denver. The other is the WOW — World of Wonder — Museum in Lafayette, according to the national Association of Children's Museums. That organization, of which the supporters of the Northern Colorado museum are members, lists just four others in the state, in Denver, Colorado Springs, Pueblo and Durango. Nationally, there are hundreds of children's museums of all shapes, sizes and orientations.
While the 16,000-square-foot Fort Collins Museum of Discovery includes exhibits and activities for children, it is not a dedicated children's museum.
Ryan Howard, a fifth-grade teacher in the Thompson School District who, along with Summer Scott from the Erion Foundation, were among the early advocates for the concept, said that the idea is meant to help children learn from their play — something that has increasingly been lost as environments have urbanized and activities have moved away from environmental exploration to digital pursuits.
"Play is essential to childhood and early development," Howard said. "Those early years, from five to eight, most brain development occurs."
According to a brochure produced by the planning group, "one million neural connections are made every second in the brain of a young child, and 80% of brain architecture is built, during childhood. … The stimulation they receive influences their ability to succeed in school and life."
Beginning in 2014, the work began. Thanks to early funders and the interest of the initial group, robust planning has been underway, including trips to children's museums taken for family vacations. An architectural firm, Oz Architecture Inc., was engaged to put pen to paper. In 2017, a consulting firm was hired to help gauge the potential of the market, including the philanthropic feasibility. Initial designs were created in 2021, and revised once to their current form.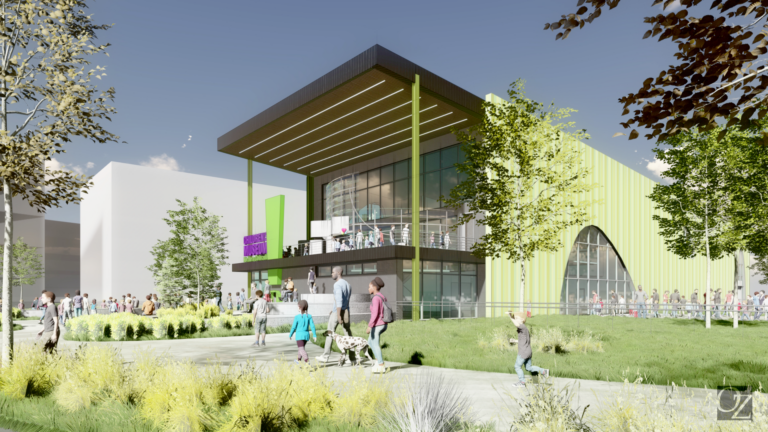 "Our idea at first was for a very little, humble, local museum, Howard said in an interview that included him, Amy Tallent of Johnstown, Kathy Wright of Loveland, Julie Johnson-Hafner of Windsor and Doug Erion of Loveland.
Also on the initial board of directors are Scott of Loveland, Debbie Hansen of Berthoud, Clyde Wood of Fort Collins, Rhonda Welch of Greeley, Blas Estrada of Loveland, and Stacey Aurzada of Greeley.
The "very little, humble, local museum" concept didn't last. When they presented it to others with an interest, the response was, "We love it. Think bigger," Howard said.
So they thought bigger.
The plan as it stands includes about $10 million of construction costs, $2 million for exhibits, an initial annual operations budget of $590,000 and money for a campaign and reserve. All in, the total is $13 million.
While the group will not say how much has been raised, the sum of the initial "quiet campaign" is close to where it needs to be to launch the public campaign. With major capital campaigns, the quiet phase targeting early, large donors collects 75% or more of the total cost before seeking support from the public and from large national, statewide and regional foundations.
The effort has caught the attention of people interested in early child development.
"A large volume of research talks about the decline of play and a resulting measurable loss" in healthy brain development, Howard said.
Wright concurred, saying she thinks the museum when finished may have a positive impact on mental health challenges faced by the region's youth.
A quick internet search yields headlines such as "Why play is important," "Children learn through play," "The importance of play in promoting healthy children," "10 things every parent should know about play," and more.
And this nugget from NIdirect.gov.uk:
"Play improves the cognitive, physical, social and emotional well-being of children and young people. Through play, children learn about the world and themselves. They also learn skills they need for study, work and relationships such as: confidence."
The effort has brought on board people in health care, teaching, and industry in general. Exhibits planned for the museum — exhibits that will be swapped in and out and not be static — involve the region's history and culture.
Farm to table, which includes not only where food comes from but the social importance of conversations around the dinner table, is among the exhibits.
Other exhibits include water, a top-of-mind topic in NoCo given issues around future supply; a bubble gallery; a science test lab; a toddler play zone; community role playing; a climbing structure; STEM — science, technology, engineering and mathematics; young artists studio; dance and music and more.
There will be party rooms and classrooms, a public meeting space, a terrace and outdoor exhibits.
"It will be distinctive to Northern Colorado; we want it to be of this place," Howard said.
They expect 150,000 or more to visit the museum each year. Entry fees will be charged at levels not yet determined, but board members were quick to note that provisions will be made so that no child regardless of economic means will be excluded.
Johnson-Hafner noted that the effort is "truly regional."
"This is something we can point to, that we have a really great regional children's museum," she said. It adds to the regional attributes that attract quality employers to the area, she said.
The group is close to identifying a specific site for the museum but would only say that it will be in east Loveland near Interstate 25 to provide regional access.
"If we had done 'small and humble' too quickly, we would have regretted it," Howard said.
Other museums
Lafayette. https://wowchildrensmuseum.org/
The WOW Children's Museum in Lafayette, 110 N. Harrison Ave., features creative space, a bank to learn about money, a wind room to explore air and wind, a room for children to play in health care professions, a community art garden, a discovery garden, a place called "Micro U" for children up to age 3, and an exhibit for kids to experience the physics of pulleys, among other exhibits.
Pueblo. https://www.sdc-arts.org/buellchildrensmuseum.html
The 12,000-square-foot Buell Children's Museum, 210 N. Santa Fe Ave., is part of the Sangre de Cristo Arts and Conference Center.
Durango. https://powsci.org/
The Powerhouse museum in Durango, 1333 Camino del Rio, is built in a former power plant. It was created "to spark curiosity, ignite imagination and power exploration."
Denver. https://www.mychildsmuseum.org/
The Denver museum began in 1973. "Every day, we work to open doors for our future leaders, innovators and adventurers to explore, create and learn — on their own terms. Our target ages are newborn through eight years old, but everyone can have a good time…"
Colorado Springs. https://www.pikespeakchildrensmuseum.org/
Located at 2565 Airport Road, the Pikes Peak museum "is a hands-on educational destination in Colorado Springs that engages learners of all ages by sparking creativity, discovery and life-long learning through purposeful play."
Information about children's museums nationwide can be found at https://findachildrensmuseum.org/
Source: BizWest