As Ranch projects take shape, Larimer County eyes ambitious next phase
LOVELAND — Almost 5½ years after Larimer County voters approved a tax extension to fund expansion and improvements to The Ranch events complex, work is in full swing on the first phase of the project, with stakeholders solidifying plans for an even more ambitious next phase.
But additional developments — including a potential new arena, youth-hockey complex, hotel and water park — will require more time — and a lot more money.
The Ranch, Larimer County's fairgrounds complex, encompasses more than 240 acres along Interstate 25, north of Crossroads Boulevard. The complex opened in 2003 and includes the 7,200-seat Budweiser Events Center, the Mac Equipment Inc. Indoor Arena and Livestock Pavilions, the First National Bank Exhibition Halls, and the Thomas M. McKee 4-H Youth and Community Building.
The complex hosts the Larimer County Fair and a variety of agricultural, entertainment and business events, along with concerts and the Colorado Eagles hockey team.
Voters in November 2017 passed a 20-year extension to a 0.15% sales-and-use tax to fund Ranch improvements, including a potential new arena, hotel and other amenities.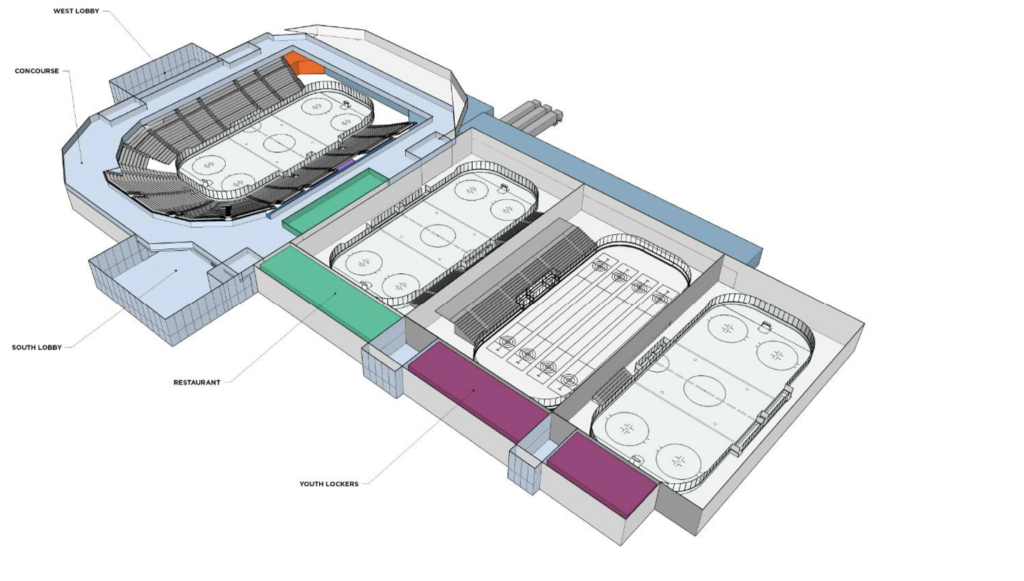 Ranch officials engaged community stakeholders on a revised master plan in 2018, with funds from the extended tax kicking in at the beginning of 2019, with a revised master plan approved that year. The tax — equal to 15 cents on every $100 spent — was expected to generate $260 million over two decades.
But since the tax was approved, the project has had to weather the COVID-19 pandemic, the departure of two directors, inflation, rising interest rates and lack of interest on the part of developers for a proposed new hotel.
"The pandemic did definitely have an impact," Conor McGrath, who took over as director of The Ranch in October 2022, told BizWest.
But, he said, the timeline has not been unusual, even with the pandemic. He noted that The Ranch broke ground on the first phase of improvements in August 2022, roughly 3½ years after the sales-and-use tax began to cash flow.
"I don't see that as a delay or as it being prolonged," he said of the $44 million in first-phase projects. "There's great efficiencies that you can gain by waiting, allowing that sales and use tax to generate to an amount where you can rip the Band-Aid on some larger projects. So when we started the phase IB, we had a fund balance to cover all parts of that project."
Larimer County assistant county manager Laurie Kadrich, speaking at a Nov. 14, 2022, work session for county commissioners, noted the impact of the pandemic.
"Some of the things that have happened, as we've tried to get this master plan going, obviously the COVID-19 pandemic had a significant impact on The Ranch campus itself, as well as the event industry," she said. "So some of our modeling changed due to the pandemic."
The Ranch in the past couple of years also experienced turnover in its leadership, with the departure of former director Chris Ashby in 2021 and the resignation of assistant director Diana Frick, effective in May 2022.
Nonetheless, Ranch improvements kicked in in earnest in August, with groundbreaking for the 41,000-square-foot 4-H Youth and Community Livestock Arena, scheduled for completion in December. The facility will include a multipurpose dirt arena, complete with bleachers and storage; classrooms and educational facilities; and supporting event infrastructure such as concessions spaces, restrooms and lobby areas.
"What we're seeing with that programming from the community nonprofit and 4-H groups, they want a more-permanent home," McGrath said. "They can't necessarily have that with the limited space that we have in the McKee building, so bringing this new 4-H Youth and Community building online is really going to support their activities."
Phase I improvements also include:
Reconfiguration of Fairgrounds Avenue, relocation of Arena Circle, extension of Clydesdale Parkway, and construction of Andalusian Road, Richard Rule Road, Show Ring Road and Pavilion Yard, scheduled for completion in July.
Expansion of the MAC Equipment Inc. Indoor Arena and Pavilion, scheduled for completion in July, with additional improvements to be completed by January 2024.
Addition of 95 spaces for recreational vehicles, scheduled for completion in January 2024.
Improvements to the Budweiser Events Center, including replacement of seating and improvements to the suites.
Construction of an outdoor arena.
Outdoor surfaces for stock/trailer parking.
Maintenance building expansion, with relocation of Larimer County's Department of Natural Resources — Land Stewardship offices.
As those Phase I projects proceed, Ranch officials also have refined plans for future expansion and improvements — which also affected Phase I itself — based on consultations with community stakeholders. Some projects have been removed or downsized in favor of focusing on a new arena and other projects.
For example, the city of Fort Collins and the Poudre School District have been in discussions about a new indoor swimming facility, obviating the need for a natatorium at The Ranch.
"It did not seem like we were best situated to meet the community needs by adding two natatoriums to the area, so we diverted some of those resources and have invested those differently in the amended master plan," McGrath said.
And, although the county received no submissions for an RFP for a new hotel in early 2022, it is in discussion with Water Valley Co. developer Martin Lind for The Ranch to house the $300 million Rocky Mountain Grand Resort and Conference Center and water park — originally slated to be housed in Loveland on the west side of I-25.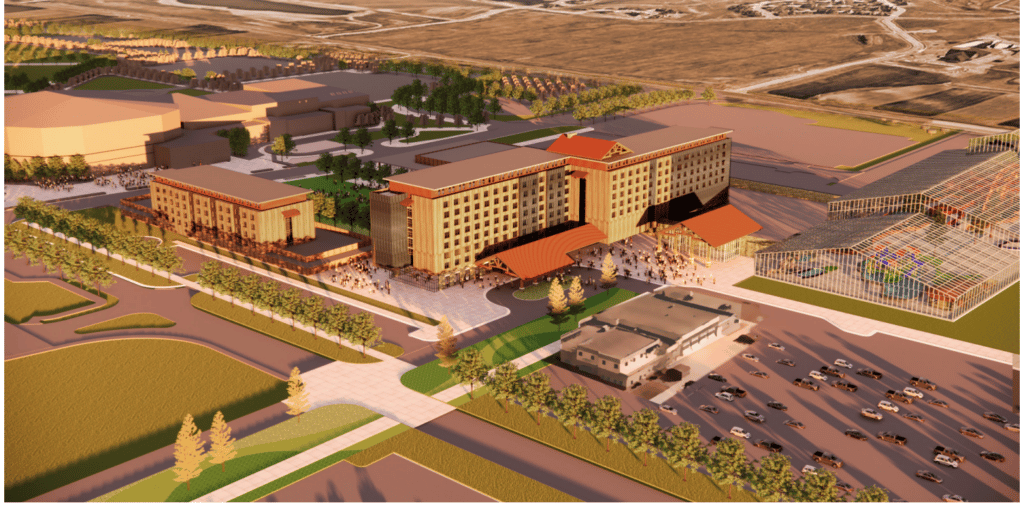 Lind told BizWest that economic conditions — including rising interest rates and turmoil in the banking sector spurred in part by the failure of Silicon Valley Bank — provide an opportunity for county officials and private developers to focus on budgeting, site planning, civil engineering and negotiations for the next phase of expansion, with emphasis on the new arena.
"Due to rising interest rates, the urgency and anxiety of getting this project going has got a little bit more peace with it right now because it's not a good time to bond this thing out right now anyway," he said. "But nothing's changed. Our desire is to finalize a deal, put it together, get these youth of Northern Colorado on some new sheets of ice and get our loyal Eagles fans a beautiful building."
He noted that conceptual site planning for the hotel, convention center and water park have been completed, with stakeholders now having to "figure out the 25 legs of the octopus on the deal."
A new arena would include 8,000 seats for hockey, including suites, or 9,000 seats for concerts. It would be attached to a youth hockey center with three sheets of ice. The arena and youth hockey sheets have top priority with the county, Lind said.
"We think it only makes sense to build it all together, so the hotel is in a somewhat subordinate position to figuring out exactly what the arena and the youth hockey is going to look like because we have to build them to complement each other," he said. "There's no other way to do it."
"Now we're kind of just waiting on next steps for how we put the deal together," he added.
He said that, "All encompassing on the whole project, it's way in excess of a $600 million project. It's literally thousands of jobs."
Lind and McGrath said the larger-scale projects would require a public-private partnership. Funds could come from the tax, private tenants such as the Colorado Eagles, concerts, concessions, merchandising, naming rights, corporate support, and lending or bonding, Lind said.
"The project can never happen unless private equity and private money comes into it," he said. "There's got to be a partner. There's no (other) way to pull any of this off."
Ranch officials, including McGrath, have visited other arenas and youth-hockey facilities around the country to derive lessons for Larimer County's new facility, including Acrisure Arena near Palm Springs, California; Baxter Arena in Omaha, Nebraska; and Liberty First Credit Union Arena in Ralston, Nebraska.
Chief among the lessons was the importance of ample storage space in any new facility, as well as the ability to simultaneously accommodate ticketed and non-ticketed events, McGrath told commissioners in a March 1 update.
Next steps, he told commissioners, include:
Continue development of a request for proposals for a new event arena with the attached youth hockey center.
Continue visiting similar campuses.
Continue discussions with Water Valley, the city of Loveland and the town of Windsor on off-site storm drainage.
Negotiations with Water Valley on a real estate transaction for The Rocky Mountain Grand Resort until a framework document is provided by WVC for review by Larimer County.
Continue to reevaluate options for the First National Bank of Omaha building.
Continue to engage stakeholders in future developments of the Master Plan.
An RFP for a new arena could be issued as soon as this summer, he told BizWest.
"We're working on that process," he said. "We don't have a definitive timeline, but we would hope to get that on the street this summer, with the ability to see responses in the fall."
As plans for expansion proceed, the Budweiser Events Center — to be renamed Blue Arena this fall after purchase of naming rights by Blue Federal Credit Union — could continue to play a key role in the future of The Ranch, Lind said.
"In my heart of hearts, I think the Budweiser Center has a tremendous value as a community asset in Northern Colorado, and I would applaud the efforts — and I'd love to be part of it — of trying to find a reuse for that building that would compliment everything that we're doing out there, and I think we can," he said. "I think that building has a tremendous, another 50 years of shelf life, under the right application."
Lind told commissioners in November that an independent market study calculated that the Rocky Mountain Grand project could have a $1.5 billion economic impact on the region over 10 years. He said addition of the arena could take that impact to more than $2 billion.
"This is an economic boom for Larimer County," he said, "a huge one."
Source: BizWest