Caraway returns to NoCo, will work to help nonprofits be successful
FORT COLLINS — Ray Caraway, former CEO of the Community Foundation of Northern Colorado, has returned to Colorado and has joined Peak Solutions USA Inc., where he'll specialize in nonprofit consulting.
Caraway led the NoCo foundation for 17 of the 30 years he has been involved with nonprofit organizations. He left to take a position with the private JF Maddox Foundation in Hobbs, New Mexico, in September 2020. In October of that same year, the Cameron Peak fire burned his Redstone Canyon home to the ground; neither Caraway nor his wife Mary were there at the time, but they lost family-heirloom possessions that were not replaceable.
Now he's back working for Peak Solutions, a company begun in 2001 by Richard Fagerlin. Fagerlin was serving on the Northern Colorado foundation board at the time that Caraway departed.
"Nonprofits face unique challenges when it comes to building a strong culture. Oftentimes, their important mission gets sidetracked because of relational or cultural strain. We're thrilled to have Ray on board to help solve that challenge for nonprofits." said Fagerlin, president and CEO of Peak Solutions. Peak Solutions offers organizational assessments, strategic planning, and team-building retreats designed specifically for nonprofits.
"Nonprofit executives can feel pulled in many different directions, and board members can feel unsure of how to contribute to the organization's mission. I know firsthand how performance is maximized when the lead executive and the board are properly aligned, and my work is designed to create the clarity that will make that happen," Caraway said. "Peak Solutions has a great reputation and an amazing array of resources for clients. I'm honored to be a part of the team."
Caraway, 61, told BizWest that his tenure in New Mexico was shorter than he had anticipated when he left Colorado for there.
"I loved the work. I loved the family and the staff of the foundation. They knew I had gone through some stuff," he said.
The fire that destroyed his home, the pandemic that made connections difficult and an emergency appendectomy when his appendix burst all factored into his decision to re-evaluate where he was and what he wanted to do.
"We always planned to come back to Colorado," he said. He thought that would be for retirement. But as he evaluated life — he almost died as he was flown to Lubbock, Texas, for surgery — he decided that he could make the move.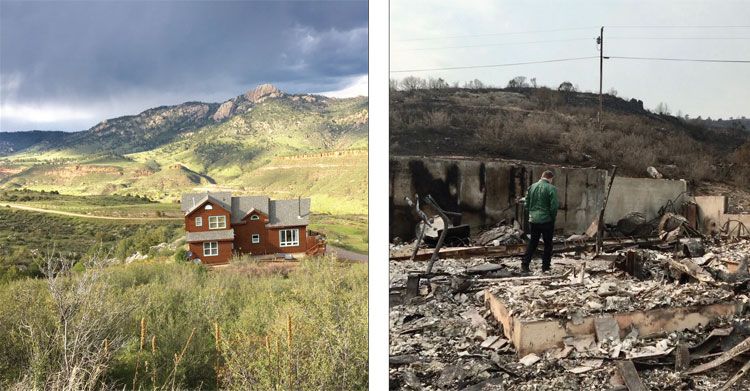 He and Mary rebuilt their home in the foothills in the same spot on the west side of Horsetooth Rock. He'll be working less than full time with Peak Solutions, helping nonprofit teams narrow their focus while enabling healthy relationships among board members and executives.
Peak Solutions, he said, has relationships with a lot of nonprofits, including rural electrical and farm cooperatives.
"What cooperatives and nonprofits have in common is that they have an executive working for a board. That's the key for any of these organizations — success of the organization depends on the board and executive relationship," he said.
Caraway hopes to bring his experience to the table and "with a set of fresh eyes" help them be successful.
While at the Northern Colorado foundation, Caraway was credited with creating the Regional Leadership Initiative, the Water Literate Leaders program and the Hach Center for Regional Engagement, among other achievements.
Source: BizWest