Las Vegas developer plans 3-building flex-industrial campus in Broomfield
BROOMFIELD — Las Vegas commercial real estate developer and investment group LaPour Partners Inc. appears to be laying the foundation for an effort to cash in on the Boulder Valley region's seemingly insatiable appetite for flex-industrial space.
Broomfield's Land Use Review Committee will evaluate on Monday evening a proposal by LaPour to develop a three-building campus dubbed Arista 36, a nod to the city's adjacent Arista district.
The builder is eying a nearly 30-acre site east of Wadsworth Parkway, south of Parkland Street and west of Uptown Avenue for the roughly 359,800-square-foot campus, that, according to a memo submitted by LaPour representatives to city planners, could eventually house "office, research and development, light industrial, warehousing and some limited commercial uses."
The flex-industrial project would be speculatively developed, with no specific tenants identified, the memo said.
"Modern business parks and warehouse facilities are desirable to more sophisticated corporate users. These companies are increasingly combining executive office, design and engineering, along with production warehousing and e-commerce. The rising focus on integrated logistics supply chains and seamless customer experiences are resulting in overlap of retail, office, and industrial uses; previously distinctive and separate uses are now more often combined and integrated," LaPour's representatives said. "The proposed development provides a sophisticated business park creating an employment hub to support the rapidly growing residential base and local workforce while reducing commutes to neighboring cities and integrating into the urban fabric and long-term goals of" Broomfield city land-use guidelines.
In a Broomfield planning document provided to the Land Use Review Committee members, city staffers note that building heights are expected to be 40 feet, "with extensive terraced retaining walls that will measure approximately 15 feet per terrace, elevating the site to approximately 80 feet above the grade at Uptown Avenue. The impacts on residents' views will be significant."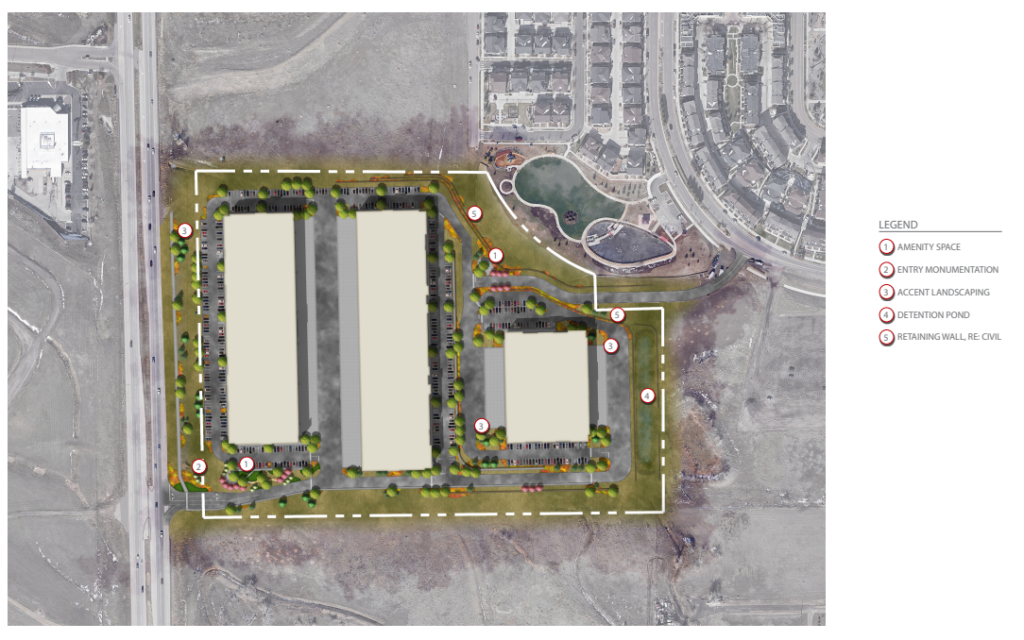 This could be an area of scrutiny for the committee, which reviews projects and passes along recommendations for the Broomfield City Council to consider should members opt to weigh in.
LaPour brought forward a proposal in 2021 for a larger flex-industrial project — 507,000 square feet on about 36 acres — for the same site.
During a 2021 public review of that previous iteration of the plan, "comments included concerns about the size and scale of the buildings, whether there was actually a demand for this type of use and if there would be a high vacancy rate, the importance of architectural design to help soften views and lessen the mass and bulk of the buildings, and access and traffic impacting the surrounding residences," according to a Broomfield planning document.
The memo continued: "During the public meeting, attendees indicated concerns about the compatibility of the industrial flex uses adjacent to the residential uses, impacts to their views, and the lack of nearby retail services, such as grocery stores and gyms. Based on comments provided during the meeting, the applicant reduced the total number of buildings from five to three, and shifted the development so that the proposed flex buildings would be located at the southern portion of the lot."
Flex-industrial space — housing an array of users from last-mile distribution hubs for online retailers to pharmaceutical R&D labs — has been a standout performer amid the broader commercial real estate sector through the COVID-19 pandemic and its aftermath, showing little sign of a slowdown in the first half 2023.
The pandemic and the resulting rise in employees working from home has wreaked havoc on the office sector, but developers are overcoming that trend by combining office space with labs and manufacturing capacity.
"What's become more important is getting people out of the house and into the office," BioMed Realty vice president Mike Ruhl said last month during a panel discussion at the University of Colorado Real Estate Center's annual Real Estate Forum in Boulder. That's less of a challenge for companies in the life-sciences and e-commerce logistics sectors, where work can't easily be duplicated in a home office.
BioMed, which bought part of Flatiron Park in Boulder last year, is redeveloping large swaths of the campus into biotech-centered spec buildings.
Spec spaces have become more popular with companies in need of space in a hurry or without the capital to build their own flex sites. This is particularly true as venture capital investors have "slowed down and gotten more conservative about how they want to spend their money," Ruhl said.
Source: BizWest